SANDY — Video gamers, pinball wizards, voice actors, cosplayers and more spawned in the Mountain America Expo Center in Sandy on Friday for the fourth annual Salt Lake Gaming Con.
One of the biggest gaming conventions in the country, Salt Lake's convention features video game tournaments and free play, board and tabletop games, pinball machines, ax throwing, Nerf gun arenas and just about every other type of competitive game that comes to mind.
"We do a little of everything," founder Jake Williams said. "We've got a lot of stuff we've put together for this one."
It's anticipated that about 23,000 competition enthusiasts will attend between Friday and the end of the event at midnight Saturday.
Early Friday afternoon, several thousand gamers had already populated the expo center, settling in front of TV screens or making their way through vendor booths.
Several dozen watched as Weber State University's eSports club faced off against University of Colorado-Boulder's team in a game of "League of Legends," an event complete with spectators and commentators. By the end of the first of three games, CU Boulder had come out on top.
Elsewhere, kids played in a Nerf gun arena and on a huge model pirate ship. Other people huddled around TV screens to play "Super Smash Bros." and other games.
Anneke Davis, who is studying entertainment arts and engineering at the University of Utah, was helping set up video game tournaments at the event, Friday. She wants to develop games that feature background characters with smarter AI — characters that learn the player's behavior and react to it. This makes gaming con the perfect laboratory for her to see how gamers play and developers create.
The college junior also manages social media for the gaming con and helped build the event's website.
"It's going to be the best convention of the year," Davis said. "We worked really, really hard for this, and I see the fruits of our labor, and I feel like everyone's having a great time."
There also were several dozen pinball machines on the expo center floor Friday afternoon. With the admission price, all were free to play, and nearly all of the machines were consistently occupied by gamers.
Most of the machines came from private collectors across Utah, said Salt Lake Area Pinballers League commissioner Dan Newman, who helped curate the assortment.
"We have almost every new machine to have dropped in the last two or three years represented here at the show," Newman said.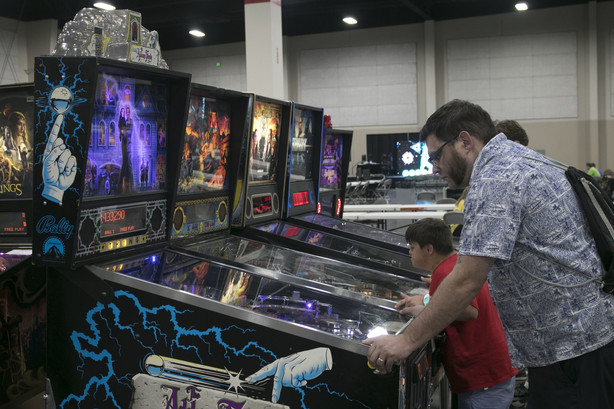 Several rare machines were are available at the convention. One of those is a "Pirates of the Caribbean" prototype machine, which is one of the only three such machines available to play in the country, Newman said.
Salt Lake Area Pinballers, or SLAP, started about three years ago. Members mostly rotate between their own basements where most of the pinball machines are located, Newman said.
Though the group is devoted, competitive and enthusiastic, Utah still isn't quite big enough to sustain its own pinball show, Newman said, so SLAP was happy to be invited to the Gaming Con.
"It's a win-win for both," Newman said.
Williams was happy to see more national attention — especially from the collegiate eSports program — at this year's Gaming Con.
Earlier this year, organizers ended their partnership with the FanX Salt Lake Comic Convention in order to devote more time to the Gaming Con, according to a news release sent out by the group.
Williams is riding that momentum to look forward to the future.
"Big things are on the verge," he said.
×
Photos