Coach Bobby Wilder's Old Dominion Monarchs will host the Hokies in Norfolk, Virginia, this Saturday in their second-ever meeting. Old Dominion comes into the game with a 0–3 record, earning a spot in both ESPN's Bottom 10 and CBS Sports' Bottom 25 in back-to-back weeks. Meanwhile, Virginia Tech comes into the weekend with a 2–0 record and a No. 13 ranking in the AP Top 25, after the team's game against ECU was canceled due to Hurricane Florence.
Old Dominion's struggles and successes begin and end with sophomore quarterback Steven Williams. The dual threat quarterback has struggled a bit this season, only completing 51.2 percent of his passes and throwing just two touchdowns to his two interceptions. Not to be underestimated though, Williams is an electric runner with already 83 yards and a rushing touchdown on the season. He will need help from his dynamic senior receiver, Jonathan Duhart, if he wants to have a chance against Tech's stout defense.
Duhart has proven himself to be an elite target this season, with 360 yards and three touchdowns as Williams' No.1 target. Duhart is responsible for all of the Monarch's receiving touchdowns this year. The offense will need to step up their game if Old Dominion intends to solve its second half scoring drought this season, as the team has not scored a single point in the final two quarters in 2018.
As for the other side of the ball, the Monarchs are headlined by elite defensive end Oshane Ximines, touted by NFL Draft scouts similar to a Khalil Mac- or Marcus Davenport-level sleeper talent. In spite of his team's struggles, Ximines has lived up to his billing, with five tackles for life, three sacks and two forced fumbles in 2018. The Hokies young line could have a difficult time protecting Josh Jackson from the redshirt senior out of Ahoskie, North Carolina.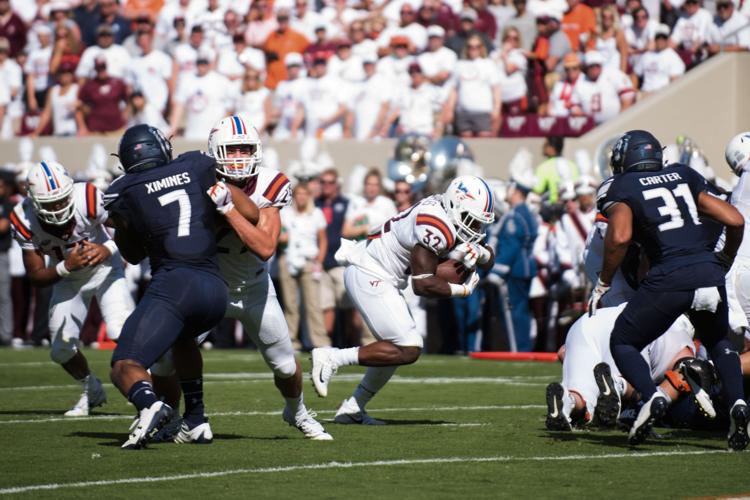 To give the Hokies a run for their money defensively, the Monarchs will need a standout performance from sophomore linebacker Lawrence Garner, who leads the team with 42 tackles this season. All in all, Old Dominion will need a complete team performance and great coaching to stick with the Hokies this weekend, and probably a little bit more.
As for the Hokies, the team has seen a welcomed success through the first three weeks of the season, with young players stepping up into big roles and thriving. Tech's running game has been rejuvenated so far this season led by redshirt-sophomore Deshawn McClease, averaging 4.9 yards per carry, up from Trayvon McMillan's 3.4 stat from this point last year.
Coach Fuente's offense has also seen new guys break out on the perimeter as well, with two new big receivers being featured in transfer Damon Hazelton Jr. and junior Eric Kumah (both 6-foot-2, weighing 222 and 225 pounds, respectively). The pair has combined for 12 receptions for 238 yards and three touchdowns through the first two games, bringing electricity on the outside.
The Hokies defense is headlined by senior defensive tackle Ricky Walker. The senior out of Hampton, Virginia, leads a unit that held Florida State to only three points in week one's matchup. He will likely be questionable for Saturday's game after suffering a left leg injury against the team's home opener against William and Mary.
On the back end, the Hokies are led by junior Reggie Floyd and redshirt-freshman Caleb Farley, who have combined for five tackles for loss, a sack and two interceptions through the first two weeks. The Hokies look to continue their winning streak, on their quest for an ACC Championship appearance for the second time in Fuente's three-year tenure with the team.
With a superior defense, a replenished offense and two weeks of preparation, the Hokies should be able to continue their winning ways against a reeling Old Dominion team this week.
The Hokies look to face the Blue Devils of Duke University (3–0) next, traveling to Durham on Sept. 29.
Prediction: Virginia Tech 52–10