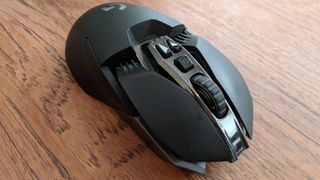 The best wireless gaming mouse is no longer about making compromises. You don't have to sacrifice performance to go cable-free, and despite what you may have heard years ago, today's best wireless gaming mice aren't laggy or slow. They're not unreliable or confused by the wireless signals coming out of your phone and router. These days, wireless gaming mice perform so well that you won't even notice a difference between wireless and wired. Except, of course, the freedom you'll feel swiping your mouse across your mousepad with no cable weighing you down.
The best wireless gaming mouse is the Logitech G903 Lightspeed. It's simply the best gaming mouse I've ever used, period. Thanks to long battery life, a great design, and performance every bit as good as a wired mouse, it's a shining example of how far wireless gaming mice have come.
If you're dead set on keeping the cord, check out our guide to the best gaming mouse. There are several great wired options to choose from.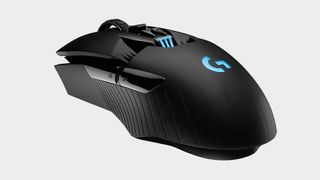 Logitech G903
The best wireless gaming mouse
DPI: 12,000 | Sensor: Optical PMW3366 | Battery: 32 hours (w/o RGB) rechargeable | Interface: USB | Buttons: 11 | Ergonomic: Ambidextrous | Weight: 107 g (0.24 lbs)
Around 30 hours of battery life while gaming
Best click feel of any mouse we've used
More expensive than most wired gaming mice
The Logitech G903 Lightspeed tries to do everything, and manages to pull it off. It's a wonderfully sculpted ambidextrous design that fits my hand as comfortably as any right-handed design, but can also accommodate left-handed use, and has removable thumb buttons for either configuration. It has a brand new click mechanism that feels and sounds better than any other mouse click I've used. It has a metal scroll wheel that can click side-to-side and spin freely for 15 seconds, or deliver a great notched scroll ideal for switching weapons in shooters. It uses the same extremely accurate 12,000 DPI sensor found in Logitech's most popular mouse.
Somehow the G903 does all this while weighing only 107 grams, lighter than many wired mice despite its battery. And it still feels sturdy. The G903 is an ambitious combination of new design and new technology with ample opportunities to fail, but everything works. After more than a year of using the G903 (and its predecessor, the near-identical G900) I've never once had an issue with wireless performance, and I prefer the G903 to any wired mouse I've ever used. You can even plug it in and use it as a wired mouse, if you prefer, which is a good way to charge the mouse and keep gaming.
The Logitech G903 is easily the best wireless gaming mouse available today. Read more about it in my full review here.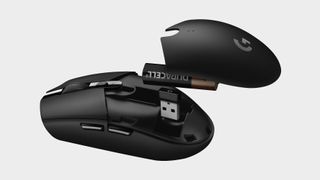 Logitech G305
A great, affordable gaming mouse
DPI: 12,000 | Sensor: Optical Hero | Battery: 250 hours, AA **Interface:** USB | Buttons: 6 | Ergonomic: Ambidextrous (left-side thumb buttons) | Weight: 99 g (0.22 lbs)
Amazingly light, with solid build quality
Logitech's best sensor in an affordable body
Fewer features than a high-end mouse
The Logitech G903 above has a peerless design, but it isn't affordable for everyone. With the newer G305, Logitech tried to make a high performance wireless gaming mouse for everyone. At a midrange price, it's competing directly against some great wired mice, but there are no real compromises here in terms of performance or design. The G305 uses Logitech's newest Hero sensor, an iteration on the fantastic performing sensor in the G903. It can last more than 200 hours on a single AA battery (which helps keep cost down vs. being rechargeable). The small wireless dongle can be stored inside the body of the mouse, but critically, the left- and right-click buttons are separate pieces from the removable palmrest, ensuring a reliable and satisfying click.
The shape of the G305 is based on a small, ambidextrous design Logitech has been using for years, and they haven't messed with a good thing. While components like the scroll wheel and buttons don't feel quite as premium as the ones in the G903, they're still far better than anything you'll find in a cheap gaming mouse. The quality and performance of the G305 are killer for the price.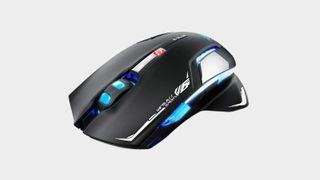 E-Blue Mazer II
A dirt cheap wireless gaming mouse
DPI: 2,500 | Sensor: Optical Avago 5090 | Battery: Months, 2xAA **Interface:** USB | Buttons: 6 | Ergonomic: Right-handed | Weight: 140 g (0.31 lbs)
Seriously, it's cheap
Not a great sensor
No driver software
Cheaper build quality
It's amazing what twenty dollars can get you. Budget gaming brand E-Blue makes a variety of wired and wireless gaming mice, and the Mazer II is a decent wireless mouse for about 20 bucks. Still, I wouldn't recommend anyone in the market for a mouse go this cheap: you'll get a much better sensor with a wired mouse for just a bit more money, and much better performance, battery life, and software with a high-end wireless mouse like the Logitech G903. But if you're dead set on wireless and only have a few dollars to spend, the Mazer II is a good choice.
The Mazer II has four DPI options, from 500 to 2500, and a comfortable enough left-hand grip (even if the materials are on the cheaper side). Don't expect any driver software with the Mazer II, or the kind of performance you can get out of typical gaming mice, which have polling rates of 1000 Hz, meaning they communicate with your PC every millisecond. The Mazer II only offers a 250 Hz polling rate. Now, will you ever notice that difference? That depends on how sensitive you are to the responsiveness of your mouse cursor. For most people, those few milliseconds won't offer a noticeable delay. 
While I didn't have any wireless performance issues with the Mazer II, don't expect its signal to be as strong as what you get with a Logitech or Razer mouse. In a "noisy" wireless environment, you could end up experiencing some interference. But hey, that's why it's cheap.
How we test wireless gaming mice
Today, most of the common wisdom about wireless gaming mice is now outdated. Some wireless mice are still more expensive, and poor ones could suck their batteries dry in the middle of a match or lag thanks to a poor wireless receiver. But good wireless gaming mice today perform almost indistinguishably from wired ones, without a hint of wireless lag or stutter to be found. To test wireless gaming mice, I got my hands on current models from big names like Logitech, Razer, and Steelseries. I also scoured Amazon to find other popular wireless gaming mice, most of which are budget models.
I used each wireless gaming mouse for several days, at minimum, getting a sense for how the mouse felt in my hand, the grip and material, and the feel of its buttons. I paid attention to battery life and how often the mouse needed to be recharged, if it was rechargeable.
For gaming, I primarily test mice with Unreal Tournament and other shooters, playing many rounds of Instagib to see how my performance stacks up against other mice. I scrutinize the cursor movement and responsiveness for lag, jitter, and other issues.
I used each mouse with its wireless receiver plugged into my keyboard or sitting on my desk, giving it the best possible wireless situation to work with. I also tested them with their wireless receivers plugged into my tower a few feet away with my legs in between, increasing the opportunity for lag and interference.